Miami website design,
Digital Marketing, & SEO company
Website Design & SEO Experts
Website Design
& SEO Experts
we make getting quality leads easy.
"

Far & above
any company that I have worked with in the past.
"
"You Guys Are Bringing Awesome Leads our way"
"
We saw a
20% increase in revenue!

"
Get customers easier than ever
93% of online experiences start with a search engine, and 75% of people judge a company by its website.
A great website design is the most effective advertising investment you can make, yet it often goes neglected! Many businesses are missing out on the best form of digital marketing –
Websites that are built to hand over new customers all day, every day.
We specialize in designing powerful, conversion-optimized websites that deliver you more leads than ever. So you can focus on what you do best and leave the digital marketing to us.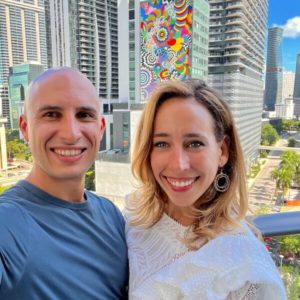 Mike & Kim Kuhn Founders
Done Digital
Conversion Rate Optimization (CRO)
& Search Engine Optimization (SEO)
great websites
unlock millions.
We often see poorly designed websites with confusing layouts, no SEO (Search Engine Optimization), no conversion tracking, and broken links or contact forms. You have no idea how many potential customers you are missing every day!
But, this means opportunity.
Many businesses have overlooked a proper website as the #1 method for attracting new leads, including your competitors!
Great websites are given extra visibility and preference by Google. Great websites have an engaging design and clear conversion path. Great websites make all of your advertising work better than ever before!
At Done Digital, we create custom website designs and digital marketing that moves the needle. Clients love us for trustworthy & powerful websites, SEO, and conversion optimization.
Hire us to help your business get more customers than ever, and surpass all of your competition.
How important is a great website?
of customers judge you by your website
Will Switch To A Competitor After A Bad User Experience
Sales Lost By Poor User Experience
Done Digital vs. Competitors
After working at top marketing agencies for years, we left our careers to start Done Digital in 2017. We recognized that the internet was demanding more and more expertise to handle digital marketing successfully, and small businesses were falling behind.
We began using our battle-tested customer acquisition strategies to help companies reach more customers and grow revenue. And it worked extremely well! After hiring us, our clients finally got fantastic results from their online advertising.
But something unexpected kept happening. While working with new businesses, we saw that poorly made websites were the most significant problem with all of their digital marketing! Slow websites with bad design were holding back all of their marketing efforts. We have focused on providing high-performance websites ever since.
Our office is in Miami, Florida and we work with clients all across the USA.